When your elderly relative gets that little bit older, you can worry about their quality of life, especially if they are not as active as they used to be. You can worry that the quality is not as good as it used to be, or even as good as it should be. Before your doubts take hold and become a reality, it is time to set about improving your relatives' quality of life. However, what can you do to bring about change, and how can you make sure that it is sustainable?
Spending More Quality Time Together
There is nothing that can make up for time spent together, and as it is so important, it is something that you should focus on as much as possible. This could involve spending more time in their home, or it could mean taking them out for a day trip. When it comes to spending quality time together, you can sometimes find that you are forcing activities and interests as you feel like you have to be doing something – however, you don't. Sometimes the best memories made and time spent together is spent doing nothing other than talking (and being in each other's company).
Going Out More – Accessible Transport
One aspect of a lifestyle that can be restrictive is getting out more, especially if suitable transport is not available. To get your relative going out more and, of course, doing more, you need to start looking at used wheelchair accessible vehicles, especially if poor mobility is an issue that is affecting them and hindering their lifestyle. When accessible transport is on hand, they are then more inclined to go out when they want to, without feeling that they are a burden on anyone else.
Regular Physical Activity
Quality of life can generally be improved when more physical activity is undertaken. Getting an elderly relative to move a little more or even take up a new activity may be difficult in the earlier days. However, when they see (and feel) the benefits, they will be more inclined to continue. Regular physical activity does not have to be anything too strenuous or testing. It can be chair-based exercises, or it could be gentle water exercises in a nearby swimming pool. When no pressure is applied, you will find that more successful outcomes can be achieved.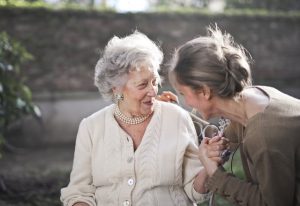 Nutritious and Healthy Meals
Quality of lifestyle and health are often interlinked and intertwined. The quality of food that your relative eats and the nutrition that they get on a daily basis can impact how they feel, as well as how much energy they have. If they are struggling to prepare their own meals, then look at getting someone in at mealtimes to ensure that they are getting the healthy and nutritious choices they need. Alternatively, look at batch cooking for them, and give them a choice of foods that they can simply heat up. When they are not worrying about preparing and cooking meals anymore, they can once again enjoy food.