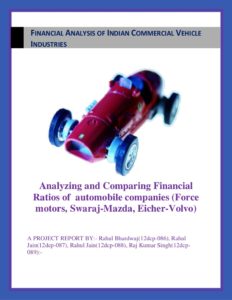 ABSTRACT
The present study aims at finding out short term solvency ratio or current ratio in two major car manufacturing companies in India i.e. Maruti Suzuki and Tata Motors. In order to improve the quality of study, a comparison is made between current ratio of both the companies and further t- test is applied to find out that whether there is a significant difference between current ratio of Maruti Suzuki and Tata Motors or not.
Keywords: Maruti Suzuki, Tata Motors, Current Ratio.
1. INTRODUCTION
In India, 'Maruti Suzuki' had started its business in 1982 by establishing a manufacturing plant at Gurgaon, Haryana. The company's headquarter is situated at Nelson Mandela Road, New Delhi. 'Maruti Suzuki 800' was the first model manufactured by the company in 1983. Today, the company is capable of producing 1.5 million family cars every year. The sales network of the company is spread over 1097 cities with service network in more than 1454 cities. The company has a team of 12500 professionals who turned out in manufacturing 14 family cars with over 150 variants successfully. The company also owns a diesel engine plant with a capacity to manufacture 7 lakh diesel cars every year. 'Maruti Suzuki' is also engaged in exporting cars to more than 125 countries including European market like Netherlands, Germany, France, Italy and UK. Alto 800, Alto K10, Celerio, Wagon R, Singray, Ritz, Swift, Dzire, Ciaz, Omni, Eeco, Ertiga, Gypsy and Grand Vitara are the various models of cars manufactured by Maruti Suzuki.
'Tata Motors' was established in 1945 in India and its manufacturing plants are located Jamshedpur (Jharkhand), Pune (Maharashtra), Dharwad (Karnataka), Pantnagar (Uttarakhand), Lucknow (Uttar Pradesh), and Sanand (Gujarat).
Tata Motors group comprises of over 60000 employees with over 6600 dealership, sales, service and spare parts network across the world. The company is also renowned of establishing a number of successful joint ventures and acquisitions throughout the world.
to be continued…