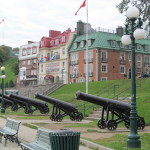 On September 9th my husband and I will be celebrating our 26th wedding anniversary. Last year for our 25th Anniversary, we went on an 8-day tour of Eastern Canada. Our first stop on the trip was Montreal, where we visited perhaps the most beautiful church in North America, The Notre Dame Basilica and explored the city's vast network of underground shops and restaurants. We also enjoyed a bus tour with a lively narrative of the city's culture and history. From there, we traveled north to Quebec, the oldest fortified city in North America overlooking the St. Lawrence River. Quebec City has a very European flavor with its cobblestone streets and 18th Century buildings. While in the area we visited Montmorency Falls, the largest waterfall in Canada. We were treated to a delicious breakfast at the Sugar Shack and maple tree farm, before heading to the country's capitol city, Ottawa.
Ottawa is a very scenic city filled with stately architecture and waterways. Our hotel was right downtown near the Parliament building and National War Memorial and park. We enjoyed a city bus tour and spent half a day at Bayward Open air market. From there we traveled to Thousand Islands for a narrated boat tour on the St. Lawrence River, featuring a thousand tiny inhabited islands.
After a brief stop in the rustic seaport city of Kingston, our final stop was Toronto. During our visit there we enjoyed a final dinner at the towering CNN Center in the revolving restaurant and a day trip to magnificent Niagara Falls, which was the highlight of the tour. One of our favorite discoveries during the trip a chain of trendy restaurant/brewpubs, 3 Brasseurs, that features great food and some of the best craft beers I have ever tasted.
Overall, it was very enjoyable and memorable trip. If you are considering a trip to Canada, I highly recommend you consider booking through Globus, a first rate touring company with loads of amenities.