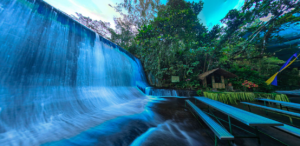 Waterfalls Restaurant
Did you ever try eating while your feet is on the water? Or did you ever experience eating while in the front of a human made waterfalls? Well, I think you would love this place. Let's talk about this wonderful place that many people think that it would only happen on their dreams.
Villa Escudero was located in the Philippines. This place brings you to the past. To the past where people live with a simple life. Even if you are from the other country, you will also enjoy visiting this place as this place owns the very unique restaurant which is located at the human made waterfalls. Yes, it was at the waterfalls. You can enjoy eating while running waters was flowing to your feet. Feel the freshness of water, the essence of nature and taste the very delicious foods serve in this water restaurant. Although foods serves there was all Filipino foods, its not a big reason not to stay there. Just taste it before you judge. You will also experience the hospitable values of the Filipinos there. Villa Escudero now is a resort. I lived there before and my relatives are living there that's why sometimes I go there.
As I have many times visited to this place, i will never forget this place. I will love this place forever. Remembering my childhood, the first place I saw when I was born. The place that reminisce all the simplicity life. I hope that all the people who read this will try to visit this very WOW place. And after you visit this place, tell me how you feel and let's talk again how wonderful is Villa Escudero. Hope you like this post.
Thanks,
-Kim Paulo