It is no secret that summer is slowly coming to an end, and the drizzle is starting to set in. This usually means you are less inclined to step outside and more likely to try and find comfort and entertainment in your own home. So, with that said, what kind of fun activities we can get up to inside when outside is a lot less appealing? This piece is going to look at the answer!
Read on for some excellent ideas of fun activities to try at home this autumn, and see which ones take your fancy!
1)   Movie Night
Movie night is an obvious classic, but it is a classic for a reason. If you do not get the chance to watch movies as much as you would like, then a dreary day outside is an excellent excuse for investing in a popcorn maker and snuggling up on the couch. For bonus fun points, choose a film you have never seen before, something you would not usually choose, or something that is not well known – you might be surprised what is out there!
2)   Themed Food Evenings
Themed food evenings are a great way to try something new and spend some quality time with family and friends. Not only does food bring almost everyone together, but trying out food from different cultures can be a fun experience. Why not have a sushi night, and make your own sushi? Or an Egyptian-themed night where you can try out staples such as Koshari?
Take to the internet and find cuisine that takes your fancy and give it a go! If you invite others, you can delegate ingredients or dishes to each person so you can have a fanciful feast.
You could also opt for online tastings for those who want more of a guided-themed evening! It might sound contradictory, but you get everything you need to be delivered, and the tasting is guided virtually. This is great fun for friends, and family, or even a great team-building idea, especially if it is virtual chocolate tasting.
3)   Start A Reading Club
There is nothing better than autumn days for those who love to cozy up with a good book, and a reading club is a perfect incentive to do just that. Not only will you get to read books that you might not choose from yourself, but you also get to discuss them with others and get different insights which can give you more dimension to what you have read. Perfect for cozy evenings and something that can be done with anyone anywhere!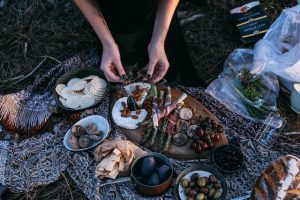 4)   Try a New Craft
Trying a new craft is an excellent way to enjoy something new in the comfort of your own home, and there is so much to choose from that you will easily find something you like and also be able to find something else after you have completed it! Sewing, decoupage, painting, resin, quilting the list is endless.