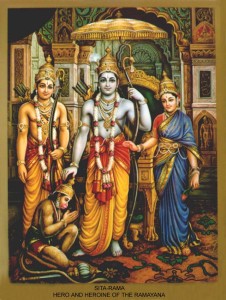 In the last post, I have told you that why Lord Rama appeared.In this post, we will also see that how the festival is celebrated in different parts of the world.
On the behalf of all the demigods, Lord Brahma requested lord Vishnu to descend on earth to kill demon Ravana. Therefore lord descended as Lord rama, sri bharata, sri lakhsman and sri sharugun in the dynasty of king dasrath.In his incarnation, Lord Rama performed various pastimes. Lastly, Lord Rama killed demon Ravana and free the burden of the earth.On the day in which lord Rama killed,ravana is celebrated as dusshera festival in India.
Sri Rama Navami celebration in India
Although ram Navami is celebrated all over the India and some parts of the world but there are some places where it is celebrated in style.
Rishikesh
Rishikesh is situated in  Uttarakhand state of India. In Rishikesh people gather and chant lord Rama mantra in nine days, on the ninth a grand Abhishek and worship of Lord ram is performed along with lord Lakshmana, Sita.
There are many ashram in Rishikesh where lord Rama and his consort Sita devi deities are installed.Their people often chant "Jai ram sri ram Jai Jai Rama"
Ayodhya
Ayodhya is situated in Uttar Pradesh state of India.In Ayodhya which is the birthplace of Lord Rama, people all over the world gather at the river saryu river and take a holy dip. They also fast for whole day to get the mercy of lord.There big festival is organised to celebrate Sri Rama birthday.
However currently Ayodhya look like battleground guarded my many soldiers.Due to that it has been very difficult for saints and sages to celebrate their beloved lord festival.It is a very precarious situation for them.