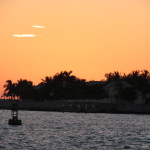 One of my most memorable vacations was our trip to Key West Florida a couple of years ago. Due to the fact that there are few direct flights to the island, we flew into Ft. Lauderdale. From there, Key West is about a 2 1/2-3 hour drive. We stayed on the Southernmost end of the island at the Best Western Hibiscus motel. It features a lush, tropical, setting with lots of palm trees and tropical vegetation in the courtyard pool area. The motel is only a few block away from Duval Street, the main drag that run through the city all the way to famed Mallory Square.
Key West is a great walking city, which is a big plus since parking is at a premium. We visited several of the small beaches in the area and enjoyed peering down into the emerald green water that was so crystal clear, it was almost like looking into an aquarium. If you enjoy snorkeling and deep seas fishing, Key West is the perfect destination for those activities. We mostly just enjoyed walking around taking in the sights including Hemingway's house with the famous 3-toed cats, the cruise ships anchored all around, and the flurry of activity and magnificent sunsets at Mallory Square in the evenings.
One of the highlights of the trip was a sunset dinner cruise and dancing on the top deck, complete with a DJ and tasty tropical buffet. There a variety of great seafood restaurants in the area as well, my personal favorites were Kelly's Caribbean Bar and Grille, A and B Lobster House on the waterfront, and Key West Pretzel Company.
The serene, laid back, party hearty atmosphere in Key West is really hard to beat. My trip to Key West is one of the most fun and relaxing vacations I have ever experienced. The sunsets alone are worth the trip!