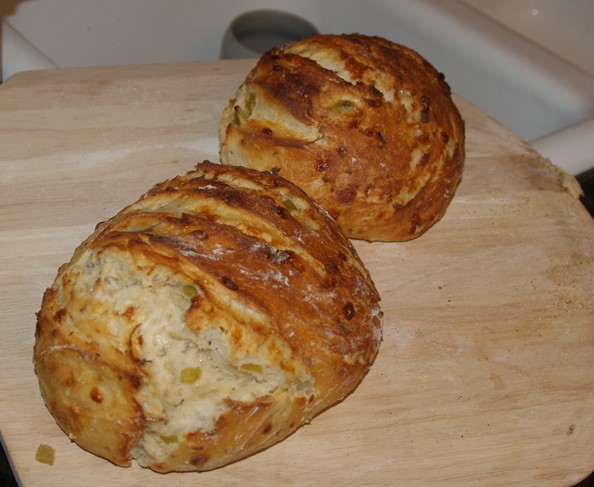 Stop! Put down that overpriced loaf of bread you just picked up in the grocery store! Do you know that you can make that same loaf of bread for a fraction of the price right in your very own home?
About six years ago, I found a bread recipe that simply could not be beat, and I have been making variations of it ever since. Try it, I guarantee you it is not only easy, inexpensive, and amazingly tasty.
My family absolutely loves it and requests this bread, and its variants, on a regular basis.
Take a look…
(makes four 1-pound loaves)
3 cups lukewarm water
1-1/2 Tbsp yeast
1-1/2 Tbsp kosher salt
1-1/2 Tbsp sugar
6 1/2 cups flour
1 cup grated sharp cheddar cheese
1 small can of chiles (mild or hot, your preference!)
Mix together the water, yeast, salt and sugar together in a large bowl. Add remaining ingredients, mix thoroughly with a spoon until completely mixed.
Cover and allow to rise and collapse (about two hours). Use right away or refrigerate for up to 7 days.
Dust dough with flour and cut into quarters. Shape into balls. Allow to rest for 1 hour if refrigerated or 40 minutes if already at room temp.
Preheat oven to 450 degrees and put a broiler pan on bottom shelf of oven. When the oven is at temp, put in bread and add one cup water to broiler pan, quickly shut the oven door.
Bake for 25 minutes or until golden brown. Let cool completely before slicing.
Questions? Ask away!
I'm new to this site and I hope to be posting more in the days and weeks to come. one of my greatest joys is in educating and inspiring others. That has led to a dizzying array of interests, so bear with me as I sort them all out and get them here, on Skypip, for your reading pleasure.
Christine Shuck a.k.a. General Malcontent enjoys writing, cooking, and educating others on a wide variety of subjects including  DIY, crafts, food, gardening, homeschool and green living. You can find more of her writing at http://thedeadlynightshade.com. You can also find her five books for sale on Amazon.com.