In Michigan, a notary does not need to own a stamp, but there are specific guidelines they must follow to be compliant with the statutes. There are no rules regarding the colour of the ink, size, or shape, but the content of the  Notary stamps must follow state guidelines. It must include the name of the state, county and the date of commission expiration.
Self-Inking Stamps
Most notary stamps today are self-inking, which means you don't need to buy a separate ink pad because one is already integrated into the stamp. This type of stamp lasts for thousands of impressions. The downside is that you can't change the color of the ink, and once it runs dry, you need to add more ink to the pad, which can be messy.
Pre-Inked Stamps
Similar to a self-inking stamp, a pre-inked stamp has an integrated ink pad with oily ink that allows for many more impressions than a pre-inked stamp. The downside is that you can't quickly stamp multiple documents in a row due to the time it takes for the stamp to get saturated.
Round Stamps
A round stamp with a separate ink pad is a popular option that looks different from the rectangle stamp and it pairs well with an embosser. It's usually less than two inches in diameter and you can easily add more ink to the pad whenever it's needed.
Pocket Stamps
Pocket stamps are smaller versions of the desk stamp. They can fit into a small purse and come in different colors and shapes. They are specifically designed not to leak when placed in a handbag or pocket.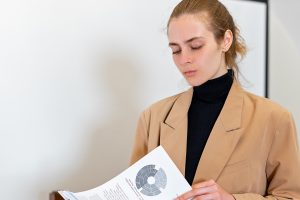 Other Notary Accessories
A metal notary seal leaves a raised impression on the document that looks professional. The seal is often combined with a seal impression inker which darkens the raised areas so that it can be photocopied.
Finally, every notary needs a journal to record their notarizations. A logbook may not be necessary for every state, but it's good to keep a personal record for possible legal challenges in the future. These journals are pre-printed with all the information you may need to show a law enforcement officer.
Notaries may use a variety of tools to create documents that look professional and last throughout the years. A typical bundle kit may contain items like a journal, stamp, stamp pad and sealer. The quality of the tools will determine how good a document looks when stamped and how long the tools will last.