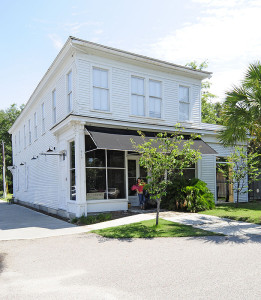 Photo via Wikipedia
<title>Port Royal South Carolina History</title>
The history of Port Royal South Carolina is long and interesting to learn about.  A Series of articles and photos for adult #entertainment and learning.
While chatting with my son online I discovered that he had the opportunity to help refurbish this historical site in Port Royal,  South Carolina.  The two of us have always loved history and exploring old relics.  I read a little about the history of Port Royal ,  South Carolina,  and one of the first photos that popped up was the photo above via Wikipedia.  I was astounded because it is exactly the same perspective my son used when taking a snapshot last week.
The old store is a large two-story commercial building that was built in 1885.  It served the community from the time its builder, German immigrant,   F.W. Scheper,  constructed it until it closed in 1950.
The General Store served the surrounding population of Port Royal with a broad selection of merchandise.  It was different than a convenient store or corner store in that it supplied the general population with all needs in the store and by ordering items.  There were staple foods along with milk,  bread,  and various household goods such as electrical and plumbing supplies.  Often locals brought in fresh eggs and vegetables that were home grown to sell.
The recent phenomenon of big box stores have taken the place of General Stores across the country.  There are a few general stores left in out of the way towns but very few.  I have enjoyed visiting a few of them and always look for them in my travels.
This general store was listed in the National Register of Historic Places in 2004.  It will be exciting to see the building when the refurbishing is complete.
Keeping relics from the past sturdy and upright is important for the futures of our children.  The next post may be about another old relic that needs a helping hand.  Our memories are often kept alive of the happy days of our youth through these old,  old buildings.
AngelaFaith   December 2015     #01