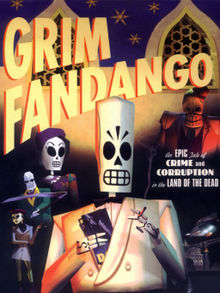 Overview
Grim Fandango is a PC game released in 1998 by LucasArts, it's still widely acclaimed as one of the best adventure games to date. With this game, LucasArts really tried something different indeed. Typically, the studio is associated with Star Wars.
The characters in Grim Fandango reside in the Kingdom of the Dead and thus have a cartoony skeletal look about them. Despite being a true masterpiece, it was a commercial failure that led to LucasArts's termination. Not the first time something great fails to excite the masses. I can see why this game isn't mainstream but in my opinion, mainstream generally means bad. Nicki Minaj and Drake are both mainstream but offer absolutely nothing for the mind.
The game features several puzzles and some to this day I still find extremely confusing and frustrating. If you're just playing for the story, I recommend getting a walkthrough in case you need assistance.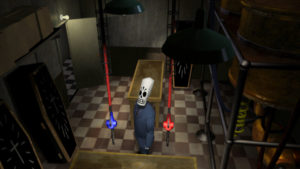 Introduction
The story contains four acts and spans four years. The main character is Manny Calavera who is an agent at the Department of Death in El Marrow. He has to work to pay off a huge debt. Unfortunately, the clients he gets are less than lucrative, to say the least. His boss regularly threatens to fire him. So he decides to steal a top-tier client from his co-worker Domino Hurley called Meche Colomar.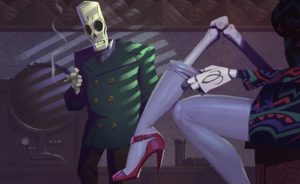 After moving Meche on, Manny discovers that his boss and Domino have been rigging the system in order to keep luxury tickets. They had a deal with the boss of the criminal underworld Hector LeMans who would resell them at exorbitant prices. Knowing that in his current state, Manny cannot fight Hector, he decides to go look after Meche with the help of Glottis (a demon).
His actions begin to catch the eye of other big players in the story and Salvador Limones, the leader of a resistance movement enlists him.  He then moves on to small port city Rubacava and starts working as a janitor while waiting for Meche to arrive. Since he possesses enough business-related skills, he quickly grows in the company.
Reference: https://en.wikipedia.org/wiki/Grim_Fandango