Finally my long wait will come to an end. Yes you read it right people. After working hard, after spending weeks full of tiredness, it will be paid off.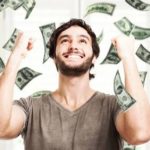 Today is March 15, 2017. I am just a few hours away from getting my money. I am waiting for this day really bad because I really need money as soon as possible. And finally later before my working time ends here at the office, my boss will give me my salary for this cut-off. Yeah you read it right. Maybe you thought I was talking about my cash out here at SKYPIP but it is not. Lol. Anyway I am hoping I will be reading any post saying he or she had cashed out from skypip any time soon or it will be better if I will be the one who will post that story.
By the way, here are verses for you to keep your faith on skypip.
On the Sabbath we went outside the city gate to the river, where we expected to find a place of prayer. We sat down and began to speak to the women who had gathered there.
I have been crucified with Christ and I no longer live, but Christ lives in me. The life I now live in the body, I live by faith in the Son of God, who loved me and gave himself for me.
Whoever believes in him is not condemned, but whoever does not believe stands condemned already because they have not believed in the name of God's one and only Son.
He replied, "Because you have so little faith. Truly I tell you, if you have faith as small as a mustard seed, you can say to this mountain, 'Move from here to there,' and it will move. Nothing will be impossible for you."
Thanks for reading guys. Happy payday 😆