Weightlifting Fairy Kim Bok-joo
Weightlifting Fairy Kim Bok-joo is a korean television series about a coming-of-age story about a group of college athletes who are fighting for their dreams, experiencing and finding love in the process, and growing every step of the way.
Kim Bok-Joo (Lee Sung Kyung) is a promising collegiate female weightlifter. Her father runs a small chicken restaurant and her uncle wants to become an actor. She has a bright personality and strong sense of justice. Kim Bok-Joo and her friends on the female weightlifting team are not popular with the guys and they don't have boyfriends. The weightlifting team and the rhythmic gymnastic team also don't get along at all.
Meanwhile, Jung Joon-Hyung (Nam Joo-Hyuk) is a collegiate swimmer plagued with numerous false start disqualifications. He is 21-years-old and has a free spirit. His uncle and aunt raised him along with his cousin Jung Jae-Yi (Lee Jae-Yoon).
One day on campus, Kim Bok-Joo bumps into Jung Joon-Hyung while he is riding his bicycle. Her face looks familiar to Jung Joon-Hyung. After he leaves, Kim Bok-Joo picks up a handkerchief left behind by Jung Joon-Hyung. The handkerchief is very important to him and he begins looking for it.
Later, Kim Bok-Joo cleans and irons the handkerchief. She goes to the school's swimming pool and gives back his handkerchief, but he explodes with anger when he sees that she cleaned it. Kim Bok-Joo then falls into the swimming pool and Jung Joon-Hyung jumps into the pool to save her. At that moment, Kim Bok-Joo and Jung Joon-Hyung realize where they have seen each other before. Kim Bok-Joo saved Jung Joon-Hyung's life by catching him before he fell to the ground when they were children. Kim Bok-Joo and Jung Joon-Hyung's relationship begins as they continue to their journey as an athletes.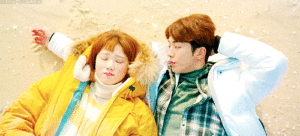 As of today the Swag couples are officially dating.