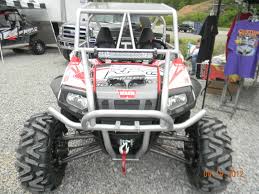 Wheel travel front: 10 inches (4 inch bump,6 inch droop)
Wheel travel rear: rear wheel travel is intentionally chosen to be less because if it is
increased then there may arise a problem of slippage of split transmission shafts from the gear
box which is connected to the rear wheel.
Wheel travel rear : 6 inches (4 inch bump,2 inch droop)
Spring travel: The maximum length that the spring can compress under the application of a
certain load is known as spring travel.
Front spring travel: Fox Float 3 evol R shock absorbers are used for the front suspension
whose maximum spring is restricted to 5.3 inches[3].
Front spring travel : 5.3 inches
Rear spring travel: for rear whose wheel travel is low when compared to front the spring Is
also has been reduced and customized shock absorbers have been used whose spring travel is
3 inches.
Rear spring travel :3"inches
Installation ratio: the installation ratio is also known as motion ratio which is determined as
spring travel/wheel travel.
Front: 5.3"/10"=0.53
Rear: 3"/6"=0.5
Ride frequency: it can be considered as the undamped frequency of the body moving up and
down on the springs. usually the ride frequency can be determined once the static deflection
has been estimated.
3. LOTUS ANALYSIS
Lotus shark [10] is a Market Leading Application For Suspension Modeling And Design.
From The World-Leaders In Vehicle Ride And Handling; The Lotus Suspension Analysis
Shark Module Is A Suspension Geometric And Kinematic Modeling Tool, With A User-
Friendly Interface Which Makes It Easy To Apply Changes To Proposed Geometry And
Instantaneously Assess Their Impact Through Graphical Results.
The virtual representation of the suspension system can be designed using this software all
the mounting points can be changed according to our desire .once every input is given the
simulation can be performed and various number of graphs (upto 18 different) can be
obtained. The graphs include camber change vs wheel travel , wheel travel vs toe angle
change , wheel travel vs Ackermann percentage , camber vs castor and so on. Once these
graph are obtained they are given a detailed study and changes are made if they are required ,
if not the hard points (mounting points ) are obtained which are used as reference during
manufacturing phase.
Thank you