Synopsis.
Watching John Wick movie is one of my hobbies. Therefore, it is good to exercise my writing skills by writing about what I have seen. Also, it is always a good practice to exploit my observation skills and reciprocate the same via making written summaries.
Introduction
The release of the movie John Wick is impressive. It perfectly picks up from the first part with a new and fascinating twist of events. For instance, a new character comes into play and swears to avenge his brother and nephew's death. This character is a drug lord too. John's former boss meets John at his residence. He is a member of the intercontinental club's high table. The latter wants John to get back to work immediately.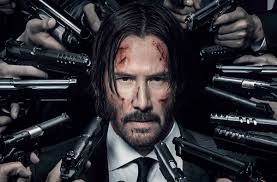 Plot – John Wick 2
After John's murderous activities in part 1 of the movie, members of New York's intercontinental club get concerned. Additionally, according to the contract between John and his boss, he must get back to business immediately. His boss gets angry of John Wick's decline to his offer. The former pledges to kill John. However, he is unaware of John's undivided focus and commitment as well as skills. John kills all those people who are sent to kill him. Therefore, the tactfulness and intelligence in using the gun alongside martial arts is the best part of the movie. It is very entertaining.
Conclusion
The movie is very good, entertaining and easy to follow. The movie's objectives and lessons do not confuse the viewers. The intercontinental deems John incommunicado after he shots his boss on the head killing him instantly. Unfortunately, the intercontinental club has lots of members across the city of New York. Regardless of John's skillfulness and reputation, he is afraid of the club's dangerous members. Finally, the movie ends by showing the fearsome John fleeing from the city on foot with his dog.