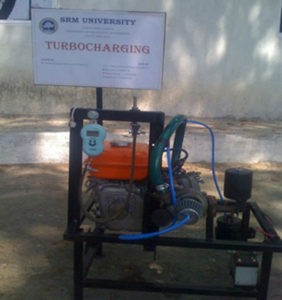 2. VAPOUR COMPRESSION CYCLE
The vapour compression system consists of a fluid which absorbs and removes heat from the
space to be cooled and rejects that heat. The vapour compression system has four components
namely compressor, condenser, a thermal expansion valve and an evaporator. The fluid enters the
compressor and is compressed to higher pressure and temperature. The hot vapour is passed
through a condenser where it is condensed into liquid. The fluid rejects heat from the system. The
condensed liquid is sent through an expansion valve and a sudden reduction in pressure occurs.
The cold mixture passes through the evaporator where the refrigerant absorbs heat. The saturated
vapour from the evaporator is sent back to the compressor.
3. EXPERIMENTAL SET UP
When the engine starts running, the exhaust gases drive the turbocharger. The turbocharger
generates electricity and it is connected to a step down transformer. The transformer transfers the
current to the compressor. The vapour compression cycle consists of a compressor, condenser,
expansion valve and an evaporator. The vapour is fed to the compressor. The compressor
compresses the vapour isentropically, increasing the pressure and temperature of the vapour.The vapour is then fed to the condenser through the copper pipes. The vapour is cooled to
liquid state at constant pressure and temperature in the condenser. The working fluid changes its
phase from vapour to high pressure liquid. It is then expanded in the throttling valve. Throttling
significantly reduces the temperature and pressure of the high pressure liquid.This liquid then passes through the evaporator where it absorbs heat and changes into low
pressure vapour. During the heat absorption process in the evaporator, refrigerant evaporates and
transforms into vapour and the cycle is repeated..
to be continued…..